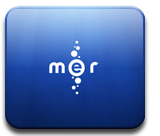 Another milestone has been reached in the
Mer project
on its way to eventually replace Maemo on the N8x0 devices. It will be possible to play videos with Mer 0.13. The current SVN version of
MediaBox
supports Mer and uses the libxine backend for video playback.
After installing libxine and
MediaBox SVN version
on Mer, you will need to install the D-Bus-Xine service. D-Bus-Xine is a simple D-Bus service for embedding libxine in applications. It was originally written for enabling DVD playback
with MediaBox on PCs.
A version compiled for Mer-ARMEL can be found
here
. If you want to compile D-Bus-Xine yourself, you can also download its
source code
.
I haven't built deb packages for D-Bus-Xine yet, so you'll have to manually extract the tarball in the root directory (/) on Mer.
After having started MediaBox, you should enter its preferences view
and set the media backends to Xine for all filetypes that you want to be able play.
However, there is no sound support yet in Mer 0.13, so don't expect too much.
EDIT: see the comments for how to get sound