Welcome to the Maemo Summit 2009!
2009-10-09 09:00 UTC / 11 18:00 UTC
Location:
Pazzanistraat 41

,

1014 DB

,

Amsterdam

,

NL
52° 23.160 N 4° 52.429 E
The Maemo Summit 2009 is the second, annual get-together of the Maemo Community. Technology enthusiasts, apps developers, and platform developers meet to network, share their latest innovation, learn about future trends and just have fun. The Nokia N900 built on Maemo 5 will be in the spotlight of this year's event. We expect some 400 enthusiasts this year.

When: October the 9th to the 11th
Where: Westergasfabriek in Amsterdam
As a former gasworks on the edge of the vibrant city of Amsterdam, the Westergasfabriek oozes a unique mood of adventure and energy. More info to Westergasfabriek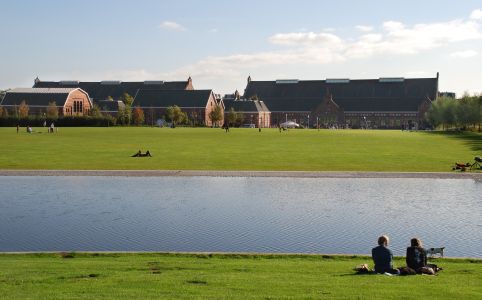 Agenda
On Friday, the 9th, keynote speakers including Ari Jaaksi, VP Maemo Devices, and Jim Zemlin, Executive Director of the Linux Foundation will talk about the big picture on Maemo. Janne Heikkinen, Director of Maemo Devices Product Planning, will give an update on the highlights of the next Maemo release. A diverse set of presentations in different streams will dive into subjects relevant for power users, app developers, and platform developers.
The Maemo community days on Saturday and Sunday will be opened by Ton Roosendaal of the Blender Foundation. Saturday and Sunday will cover a whole range of workshops, presentations and lightning talks from community members for community members.
Registration
The online registration has reached the limit of participants and is now closed.
More info in the Maemo Summit 2009 wiki page.
Map © OpenStreetMap. Some rights reserved.
2009-05-13T14:09:13Z
a35c0d203fc711deaabf63dbd08bb5d3b5d3
Register here.
394 participants
| Name | Role | Work | Coming from | Primary project | Other community projects | Sponsorship |
| --- | --- | --- | --- | --- | --- | --- |
| Genchev, Ivan | | | | | | |
| chu, eagle | | | | | | |
| Gombos, Justin | | | | | | |
| Foti, Mauro | Mr. | TeckHouse! | Italy | | | |
| Bau, Wolfgang | | | | | | |
| Streefkerk, Marieke | Strategy & Innovation Consultant | Fronteer Strategy | the Netherlands | Nokia co-creation | a co-creation project for Nokia, which involves the Maemo community. It will take place before and during the Maemo Summit in Amsterdam | |
| Chen, Ming Chun | SW Engineer | FIH | Taiwan | | | |
| Taimi, Maija | | Nokia | Finland | | | |
| Bartosh, Ed | Senior Design Engineer | Nokia | Finland | autobuilder, evince, openssh | Python programming | |
| Lindeijer, Thorbjørn | Software Engineer | Nokia | Germany | Qt Creator | The Mana World | |
| Ahlstedt, Katja | Director, Maemo Devices HR | Nokia | Finland | | | |
| Kiiskinen, Iridian | | Movial | Finland | libqttracker | | |
| Verweij, Vincent | | | | | | |
| Neary, Dave | maemo.org docsmaster | Neary Consulting | France | Docmaster | Documentation, community | |
| Sørensen, Johan | Partner | Shortcut AS | Norway | | Gitorious | |
| Luukkonen, Jan | Sales Director | Fjord | Finland | | | |
| Kipping, David | | | | | | |
| Minagawa, Yan | open-media-data-api support and evangelist | moviepilot | de | c-base | bootlab, secondstage | |
| Schröder, Holger | | | | | | |
| Myllynen, Harri | CEO | Offscreen Technologies Ltd | Finland | | | |
| Hemel, Armijn | Technology consultant | Loohuis Consulting | The Netherlands | gpl-violations.org | | |
| Honkamaa, Kaarle | | | | | | |
| Bordyug, Vitaly | Chief Engineer | RTSoft Inc. | Russia | Linux kernel | Maemo, Android | |
| Collins, Matt | Director, Strategic & Services Marketing, Forum Nokia | Nokia | USA | | | |
| Rautio, Jussi | Project Manager | Sesca Mobile Software | Finland | | | |
| Nikkanen, Toni | Software Engineer | Cybercom Group | Finland | | | |
| Letellier, Guillaume | Software engineer | ARM Ltd | UK | | Browser | |
| Pippuri, Sami | Head of Product Marketing | Nokia | Finland | | | |
| RISKI, Riku | | | | | | |
| Sanchez, Elena | | | | | | |
| Paul, Ryan | Editor | Ars Technica | United States | | | |
| Maio, Daniele | Student | | Italy | | Development on Linux Embedded devices. | |
| Pelkonen, Antti | | | | | | |
| Taylor, Robert | Director | Codethink Limited | UK | Tracker | ContextKit, dconf | |
| Barisione, Marco | Software Engineer | Collabora Ltd. | United Kingdom | Telepathy | GNOME | |
| Dywan, Christian | Developer | Lanedo GmbH | Germany | Midori | | |
| McFadden, Oliver | Engineer, System SW | Nokia | Finland | maemo.org | | |
| Saari, Marko | Senior Interaction Designer | Nokia | Finland | Maemo UI | | |
| Herzberg, Sven | Developer | Lanedo GmbH | Germany | | | |
| Grönholm, Kaj | Chief Software Architect | Nomovok | Finland | | Qt UI coding, gtkperf | |
| Herbster, Raul | Senior Developer | Signove | Brazil | Mica | Esbox, Pluthon, MaemoVmWare | |
| Lavonius, Ville | Product manager | Nokia | Finland | | | |
| Blandford, Rafe | Editor | All About Symbian | United Kingdom | All About Maemo | | |
| Loregian, Marco | Research and development specialist | itsme srl | Italy | | | |
| tameni, michele | Research & Development | ITSME S.r.l | Italy | Sabayon Linux | | |
| Benis, Robertino | | | | | | |
| De Swert, Philippe | Senior R&D engineer | Nokia | Finland | | | |
| Kyckling, Tero | Senior Sourcing Manager | Nokia Oyj | Finland | | | |
| Sgouros, Anthony | | | | | | |
| Ollila, Tomi | Senior Software Developer | Nixu OY | Finland | Maemo Application Developer | | |
| Järvenpää, Jarkko | Business Development Manager | Vincit Oy | Finland | | | |
| Elyahyaoui, Farid | | | | | | |
| Stuart Parmenter, Stuart | Director of Engineering | Mozilla | US | | | |
| Pokora, Piotr | Software Developer | Nemein | Poland | Midgard | Conboy | |
| Rusanen, Antti | Software Engineer | Nixu | Finland | | | |
| Kotilainen, Kirsi | | | | | | |
| Mäkinen, Jussi | Marketing Manager, Lead Users | Nokia | Finland | | lead user marketing + co-creation | |
| Logiotatidis, Giorgos | Msc Student | TU Delft | Netherlands | | | |
| Morrison, Donn | PhD student | University of Geneva | Switzerland | webcam_server | scrabbledict | |
| Turpeinen, Lasse | | Nokia | Finland | | | |
| Smigielski, Radek | system engineer | Citrix | Poland/Ireland | | | |
| De Marino, Ivan | Software Engineer - Mobile and Web Technologies | Orange Labs UK (France Telecom R&D) | United Kingdom | Qt | | |
| Wouters, Jeroen | | | Belgium | | | |
| wells, stu | | | | | | |
| Ottens, Kevin | Software Engineer | KDAB | France | KDE | Qt, Akonadi, Nepomuk, Solid | |
| Hämäläinen, Sampo | | | | | | |
| Fuchs, Thilo | Project Manager | basysKom | Germany | | | |
| Helander, Timo | | | | | | |
| Saklani, Mukul | | | | | | |
| Werden, Stefan | Director Business Development | | Germany | openSUSE, KDE | | |
| Levine, Oren | Sr. Technology Marketing Manager | Nokia | USA | | | |
| Björklund, Henrietta | | Nokia | Finland | | | |
| nieminen, pasi | CEO | NOMOVOK | Finland | ZCOCO | | |
| Roozen, Pascal | | PHC Mobile Office Specialist | Netherlands | | | |
| Brandt, Clemens | Interactive Producer | Wieden+Kennedy | UK | | | |
| Nikula, Jani | Linux Software Engineer | | Finland | Linux Kernel | | |
| Stolt-Väyrynen, Satu | Marketing Communications Manager | Nokia | Finland | | | |
| Fourneau, Brecht | Senior Developer | MobileJuice | | | | |
| vermeulen, miquel | Mobile developer | | Belgium | | | |
| Elsilä, Janne | | Nokia | Finland | | | |
| Chang, Liana | Strategic Planner | Wieden+Kennedy | United Kingdom | Nokia / Maemo Co-creation and Marketing | | |
| Schendstok, Bernard | | | the Netherlands | | | |
| Infanti, Jennifer | | The Global Fund to Fight AIDS, Tuberculosis and Malaria | Switzerland | | | |
| Mäkelä, Juhani | Lead developer | Nixu Oy | Finland | | | |
| Peltoranta, Annika | | | | | | |
| Kiljander, Harri | Director User Experience Design | Nokia | Finland | | Harmattan | |
| Broslavsky, Serge | Technical Project Manager | Accenture | Latvia | | Mobile & Embedded Software Development | |
| Brucherseifer, Eva | Managing Director | basysKom GmbH | Germany | KDE | | |
| Maatta, Tarja | | | | | | |
| Aloisio, Antonio | FN Dev | Nokia | Italy | Maemo Qt | | |
| Alhola, Kate | maemo Chief Engineer | Nokia | Finland | Qt for maemo | | |
| Muilu, Petteri | SW Architect | Futurice | Finland | | | |
| Willis, Nathan | Journalist | LWN | USA | News | | Accepted |
| Luddy, Alexander | Product Manager | Qt Development Frameworks, Nokia | Australia | | | |
| Verrall, Stephen | Engineer, Snr Staff/Mgr | Qualcomm Innovation Center | USA | | | |
| Lureau, Marc-Andre | Software Developer | Flumotion | Spain | GNOME | | |
| Rocha, Daniel | Sr. Technology Expert | Nokia | USA | | | |
| Van Raemdonck, Filip | IT Infrastructure engineer | LCM | Belgium | Debian | | |
| Nagineni, Sudarsana | Software Engineer | Nokia | Finland | | Browser | |
| Poettering, Lennart | Software Engineer | Red Hat, Inc. | Germany | PulseAudio | Avahi | Accepted |
| Merali, Zaheer | Senior Software Developer | Flumotion Services S.A. | UK | GStreamer | Flumotion, Istanbul, ZSpykee, Zap, ZPlayout, Zoutube | |
| van der Helm, Loek | GoToMarket Program Manager | Nokia | Finland | Nokia N900 | | |
| Zillikens, Frank | | | | | | |
| Laitinen, Ismo | Product Manager | Nokia | Finland | | | |
| Pienimäki, Sami | Head of Product Management | Nokia | Finland | | | |
| Toral Quiroga, Iago | | Igalia | Spain | MAFW | | |
| Terörde, Reiner | Development Manager | Toshiba Electronics Europe | Germany | | | |
| Wojciechowski, Maciek | | TU Delft | the Netherlands | | | |
| vainio, anna-marja | | | | | | |
| Soltysik, Krzysztof | Business Development Representative | Comarch | Poland | | | |
| Hunold, Michael | Senior Software Engineer | Toshiba Electronics Europe GmbH | Germany | | | |
| Järvilehto, Paavo | | | | | | |
| Wallin, Inge | COO | KO GmbH | Sweden | FreOffice | | |
| Paul, Winifred | Senior Software Engineer | Toshiba Electronics Europe GmbH | | | | |
| Capotă, Mihai | PhD candidate | TU Delft | Romania | | | |
| Lauwers, Sebastiaan | Technical Consultant | ActivIdentity | UK | liqbase | Mobile computing development, exploring graphical user interface possibilities | |
| Filipski, Dariusz | Project Manager | Comarch/Nokia | Poland/Finland | | | |
| Oksala, Mia | | | | | | |
| Zander, T | | Nokia, Qt Development Frameworks | -- | KOffice | | |
| Pakarinen, Seppo | Project Manager, Documentation | Nokia | Finland | | | |
| Salminen, Isko | Production Manager | Activeark Ltd. | Finland | maemo.nokia.com | | |
| van der Helm, Sjoerd | | | | | | |
| Schroen, Joep | Embedded SW Engineer | Philips Lighting | Netherlands | | | |
| Antymyrov, Yevgen | Software Engineer | AND Automotive Navigation Data | Netherlands | stardict | labyrinth, load-applet | |
| Indria, Yolla | | | | | | |
| Nerozzi, Matteo | Computer engeneer | | Italy | | | |
| Smith, Thomas | | | The Netherlands | | | |
| van der Zwan, Ariane | | | | | | |
| Nair, Benson | | | | | | |
| Salminen, Karoliina | Technical Project Manager | Nokia Corporation | Finland | QFLR5 | Maemo Devices / Application Framework | |
| Krause, Volker | Software Engineer | KDAB | Germany | Akonadi / KDE PIM | | |
| Hidayat, Ariya | Software Engineer | Nokia | | | Qt, WebKit, KDE | |
| Butterfield, Brett | | | | | | |
| nagata, luiz | | | | | | |
| Lehtomaki, Juha | Senior Manager | Nokia | USA | | | |
| Leisse, Alexandra | Web Community Manager | Nokia, Qt Development Frameworks | Norway | KDE, KOffice | | |
| Goldberg, Zachary | Software Engineer | University of Pennsylvania | USA | Zhaan | GUPnP, PyGi | |
| Adam, Till | Managing Director Germany | KDAB | Germany | KDE | Akonadi | |
| waterman, david | Software Engineer | Nokia | Finland | | | |
| Hucker, David | Programme Manager | Skype | | | | |
| Kügler, Sebastian | Software Engineer | KDAB | Netherlands | KDE | | |
| Kankaanpää, Arto | Technology Manager, Linux and Open Source | Tieto | Finland | | | |
| Vollmer, Marius | Software Specialist | Nokia | Finland | | | |
| Pooters, Ivo | | | | | | |
| Bragge, Eero | Senior Technical Consultant | Nokia Oyj | Finland | | | |
| Gallen, Michelle | Freelance Learning Consultant | www.searchfindlearn.com | Ireland | | | |
| Chatzi, Domenica | | GHOL | Switzerland | | | |
| Junnonen, Tomas | Software Architect | Nokia | Finland | | | |
| Loughney, John | Collaboration Manager | Nokia | | | | |
| Aguiar, Carlos Eduardo | | | | | | |
| Chan, Kevin | Games Developer Support Engineer | Nokia | Canada | | | |
| Monroe, Ian | Software Developer | Collabora | United States | Amarok | | |
| Reitter, Travis | Software Engineer | Collabora, Ltd. | USA | | Fremantle Address Book | |
| Stoppa, Igor | Sr SW Project Manager | Nokia | Finland | | | |
| Cooke, Charles | Linux Systems Administrator | Betfair Ltd. | United Kingdom | GrandCentral | | |
| Rempt, Boudewijn | Krita Maintainer | | Netherlands | KOffice | | |
| Schuele, Martin | Principal Designer, UI Design | Nokia | Finland | | | |
| bradshaw, mike | | | Finland | | | |
| Bokovoy, Alexander | | RedHat | Finland | FreeIPA | Samba Team | |
| Sintonen, Pekka | | | FI / GE / CZ | | | |
| Tuhkanen, Ari | | | | | | |
| Tseng, Tina | Collaboration Manager | Nokia | USA | | | |
| Välisalmi, Pekka | Director, Maemo Releases | Nokia | Finland | | | |
| Pikkarainen, Kari | Senior Product Manager | Nokia | Finland | | | |
| Niemi, Ari | | | Finland | | | |
| Denis-Courmont, Rémi | | Nokia | Finland | VLC media player | oFono | |
| Lang, Kaj-Michael | IT expert | City of Turku | Finland | Mapper | abook-qrcode, mgstmodplug/mod-support, xhyperoid, Maelstrom, espeak, hercules, hercui, mydicto | Accepted |
| Kromhout van der Meer, Theo | C++ Developer | Marzz Software | Netherlands | | | |
| Thomschutz, Jesper | QA/Release/Development Engineer | Nokia | Norway | KDE | Qt | |
| Van den OEver, Jos | software architect | KO GmbH | Netherlands | | Strigi | |
| Zeh, Alexander | Designer | | Netherlands | | | |
| Korpelainen, Mikko | Senior Product Manager | Nokia | Finland | | Maemo Browser, Ovi Maps, Location FW | |
| Won, Daphne | Collaboration Manager | Nokia | | | | |
| Kortelainen, Mikko | | Techelp Oy | Finland | | | |
| Chande, Suresh | Technical Product Owner | Nokia | Finland | | Office | |
| p, thomas | . | Oculex | Finland | | | |
| Suomela, Hartti | | Nokia | USA | | | |
| Lal, Rajesh | Senior Research Engineer | Nokia Inc. | United States | | Devices R&D | |
| Ahonen, Santtu | Head of Maemo Developer Offering Product Planning | Nokia | Finland | | | |
| Van Camp, Benny | Software & Service Manager | Nokia Belgium | Belgium | | | |
| Wilson, Sam | Partnerships Team | Google | UK | | | |
| Van Hoof, Philip | Software developer | Codeminded BVBA | Belgium | Tracker | Tinymail, Modest | |
| Winquist, Christoffer | Head of Product Management | Nokia | Finland | | | |
| Frade, Ivan | Senior Software Engineer | Nokia | Finland | tracker | mussorgsky | |
| Dubovik, Sergiy | Senior Software Engineer | Nokia | Finland | Harmattan UI | | |
| Bijjal, Soumya | Project Manager | Nokia | Finland | | | |
| Reshetova, Elena | Senior Engineer, Security | Nokia | Finland | Maemo Platform Security | | |
| Ali, Zeeshan | Lead Developer | Nokia Oyj | Finland | Rygel | GUPnP, GStreamer | |
| Heikkinen, Janne | | | | | | |
| Pulkkinen, Otto | product manager | Nokia | Finland | Tracker | Maemo | |
| de Vries, Roald | | | | | | |
| Teixeira, Jose | open-source research and development | Turku School of Economics (TSE) | Finland | | | |
| Mäkinen, Janne | | | Finland | | | Accepted |
| Ordinas i Llopis, Marc | Programmer | Collabora | Mallorca | Hildon Desktop | | |
| Kulve, Tuomas | Senior System Software Engineer | NVIDIA | Finland | ogg-support | | Accepted |
| Bloom, John | SysAdmin | The Driver Training Group | United States | Mer | Mer | Accepted |
| K., Michael Dominic | Chief constructor & owner | New Wild | Poland | | | |
| Ylimäki, Rami | Software Engineer | Vincit | Finland | X.Org | | |
| Kertész, Csaba | Lead Engineer | Vincit Oy | Finland | OpenCV port for Maemo | | |
| van Nieuwenhoven, Frans | developer | ING | Netherlands | | | |
| Hedberg, Johan | Senior Software Engineer | Nokia | Finland | BlueZ | Maemo SW | |
| Lidman, Janne | Software Engineer | Codemancers Oy | Finland | | | |
| Ristolainen, Juha | Senior Consultant | Futurice Oy | Finland | | - | |
| van der Bos, Freark | Junior technical consultant | Proteon | the Netherlands | | | |
| Fey, Patrick | | | | | | |
| Figuiere, Michael | | | France | | | |
| von Dentz, Luiz Augusto | Software Engineer | INdT | Brazil | BlueZ | PulseAudio, HAL | Accepted |
| Karacan, Ferdi | Software Editor | LOG Magazine Turkey | Turkey | New Technologies for Mobile | | |
| Fayzullin, Marat | software engineer | | Russia | VGBA | SlideRule, VGB, iNES, MasterGear, ColEm, Speccy, fMSX, ATI85, EMUTools, EMULib | Accepted |
| Kuitunen, Mikko | Managing Director | Vincit | Finland | | | |
| Popelo, Andrey | GSoC student | | Ukraine | RTM plugin for Canola | | Accepted |
| Virtanen, Pekka | | Vincit Oy | Finland | | | |
| Voipio, Riku | Developer | Nokia | Finland | qemu | | |
| Desmet, Bert | student | | Belgium | Fedora Project | OLPC, smolt | |
| Pataliu, Raluca Simona | | | | | | |
| Wasilewska, Barbara | | | | | | |
| Souren, Kasper | Social Web Consultant | self | Netherlands | hitchwiki.org | Drupal, many wikis | |
| Carvalho, Vitor | | | Portugal | | | |
| Blajut, Iulian | | | Romania | | | |
| Soini, Mox | Service Designer | Palmu Inc | Finland | Fremantle | | |
| Lim, Patrick | Application Support Specialist | Nokia | Singapore | | | |
| Dalal, Mustali | Software Engineer | Toptech Europe | Belgium | | | |
| -, timeless | Software Engineer | | Finland | Mer | Browser | |
| Vertainen, Marko | | | Finland | OSS localization (Finnish) | Finnish localization for: OMWeather, MaemoMapper, FBReader, GPXView, Maemopad+ | |
| vitters, Olav | | | Netherlands | | | |
| Blumenfrucht, Marc | Open Source Consultant | | Israel | | | |
| Berner, Sean | VP / Software Engineer | ZooVision | USA | | | |
| El Gueddari, Mehdi | Freelance Software Developer | | UK - Ireland - France | | | |
| Militaru, Alex | Software Developer | | Romania | | | |
| wijnstekers, rogier | Account manager business mobility | NOKIA | the Netherlands | | | |
| Zilberman, Boaz | Founder | fring | Israel | | | |
| Nordström, Ove | Developer | OJN Data | Sweden | | | |
| Tolkkinen, Jari | Senior Technical Specialist | Tieto | Netherlands | | | |
| Foster, Jeremiah | ex-debmaster | Pelagicore AB | Sweden | maemo.org | debian | |
| Kunev, Atanas | Software Engineer | | Bulgaria | | | |
| Sperberg, Roger | Publisher, editor | S Press | USA | Guide to the N900 (for new users) | E-books, general Maemo and IT coverage as a blogger and book author | Accepted |
| Lima, Eduardo | Developer | openBossa/INdT | Brazil | Canola | Maemo EFL, Qt Labs Americas | Accepted |
| Plaetinck, Dieter | System Engineer / Developer | Kangaroot | Belgium | Uzbl webbrowser | Arch Linux | |
| Pilomia, Janaina | Product Marketing Manager | Nokia | Finland | | | |
| Virki, Tarmo | | | | | | |
| warren, jason | | | | | | |
| Sun, Quanyi | Technical Product Owner, Location | Nokia | Finland | | | |
| Van der Wal, Sander | Proprietor | mBrain Software | The Netherlands | | | |
| Romashin, Oleg | Software Engineer | Nokia | Finland | Mozilla | Browser Technology | |
| Bundev, Kamen | Web Front-End Developer | Telerik | Bulgaria | Tear | Echognomix, Web Development | Accepted |
| Luiten, Karlo | | | | | | |
| Steinke, Bernd | System Architect for Mobile Multimedia Solutions | DCT | Germany | | noBounds; LiquidHD | |
| Watt, Jonathan | | | | | | |
| Nivala, Annu-Maaria | Project Manager, User Experience | Digia Plc | Finland | | | |
| Saavedra, Claudio | | Igalia | Finland | Hildon | | |
| Wijkman, Tim | | | | | | |
| Thysmnas, Jurgen | Communication & Events Manager | Nokia | | | Maemo press roundtable | |
| Surakka, Kimmo | Senior SW Engineer | Teleca Finland | Finland | | | |
| Dercksen, Danijel | Pubisher | All About Phones | Netherlands | | | |
| Siitonen, Lasse | Director | Nokia Corporation | Finland | | | |
| mikkonen, jani | Senior Software Engineer | Flander Software | Finland | | Nokia Internal / Harmattan testing | |
| Buxton, Alistair | Freelance | | UK | Linwizard | | |
| Caunt, Robert | | CCS Insight | UK | | | |
| Harbaum, Till | Systems engineer | Harman International | Germany | OSM2Go | GPXView, Enigma, Maep, libzeemote | Accepted |
| Kothandaraman, Rajesh | Senior Consultant | Xaton B.V. | Netherlands | | | |
| Coul, Martin | Business Development Manager, Mobile | Skype | United Kingdom | | | |
| Kolesnik, Jeanne | Business Development Director | Paragon Software Group | Netherlands | | | |
| kovrov, serg | Wizard | Inc11.com | Latvia | | | |
| Percy, Tony | General Secretary | International Society for Human Rights (British Working Group) | UK | | multimedia notepad -- comprising shorthand recognitions and a sticky GUI | |
| ciesielska, malgorzata | researcher | CBS | denmark | | | |
| Dominikowski, Tomasz | Translator | Aviary.pl | Poland | Extra Decoders Support | GNOME l10n, Ubuntu l10n | Accepted |
| Levonmaa, Mikko | Group Manager | Ixonos | Finland | | | |
| ellwein, charles | | | | | | |
| Harmsen, Robert | CEO | Klomptek | The Netherlands | | RCM - TnP | |
| Douglas, Mark | Product Manager - Mobile | Skype | UK | | | |
| Tammesalu, Raul | QA Engineer | Skype | Estonia | | | |
| Mero, Peter | Account Manager | Digia | Finland | | | |
| Shevchenko, Andy | Software Engineer | Teleca Finland Oy | Finland | None | RenRot | |
| Slot, Niels | Software Engineer | | the Netherlands | KDE, KTurtle | | |
| Kupietz, Peter | Student | | Germany | | | |
| Rainisto, Roope | Senior interaction designer | Nokia | Finland | Maemo UI | Maemo Software | |
| Csipa, Attila | Senior Maemo Technology Expert | Nokia | Finland | PyQt | appwatch,quickbrownfox,flashlauncher | Accepted |
| Lasky, Peter | | | | | | |
| Toivainen, Olavi | Director | Nokia | Finland | | | |
| Mirestean, Andrei | GSoC student | | Romania | Porting Canola to Maemo5 and beyond | Pedometer Home Widget, Picasa plugin for Canola | Accepted |
| Almeida, Ana | | | | | | |
| Eklund, Jukka | Solution Manager, Nseries | Nokia | Finland | Harmattan | | |
| Impivaara, Matias | Global Account Director | Immersion | Finland | | | |
| Pänkälä, Janne | Software Engineer | F-Secure | Finland | | | |
| van Donderen, Casper | | Utrecht University of Applied Sciences | Netherlands | KDE Games | | |
| Nielsen, Nikolaj Hald | | | | | | |
| fabbricino, anthony | | | | | | |
| Cimmino, Marco | Linux QE | Skype | Estonia | | | |
| Tukkinen, Juha | Principal Engineer | Nokia | Finland | | Harmattan | |
| McLaughlin, Mark | Senior Interaction Designer | Skype | United Kingdom | | | |
| Järvi, Juha | Software Designer | Foreca Ltd | Finland | | ForecaWeather | |
| Nguyen, John | Project Manager | Skype | UK | | | |
| Jongenburger, Kees | Embedded Software Developer | TomTom B.V. | The Netherlands | MUD | Soft and Hardware hacking | |
| Cvancarova, Lenka | | | | | | |
| Hasselmann, Mathias | Software Developer | Openismus | Germany | | | |
| Holtmann, Marcel | Hacker | | Germany | | | |
| Thomsen, Kai | Manager Networks and Communication | SMS Siemag AG | Germany | | | |
| Simula, Adele | UX Designer | Linja Design Oy | Finland | Fremantle/Maemo 5 | | |
| morrison, mike | Software Developer | | Canada | quiver | quiver, gtktide | Accepted |
| Gadsby, Stephen | Instructional Technology Specialist | Millersville University of Pennsylvania | U.S.A. | moderation on Talk | Bug Jars | Accepted |
| Lillkvist, Kristina | Project Manager | Vilnius Business College | Finland | | E-learning | |
| Lillqvist, Tomas | Software Engineer | Cybercom Finland Oy | Finland | | Harmattan | |
| Aarnio, Lauri | | Nokia | Finland | | | |
| Andrews, Clive | | reality bites | Netherlands | ruby | | |
| Bäcklund, Jarmo | Program Manager, Qt for maemo | Nokia | Finland | | Qt for products | |
| Sanchez Penas, Juan Jose | Group coordination and business development | Igalia | Spain | Hildon, Modest, MAFW | | |
| Kruisselbrink, Marijn | | KO GmbH | The Netherlands | KDE | | |
| Sauerbier, Arnim | Temporarily Retired | | Germany | Newer builds of games and emulators (much WIP) | Older builds of games and emulators | |
| Vriezen, Koos | Software engineer | froglogic Hamburg | Germany | | | |
| Hald, Cornelius | Student | | Germany | Conboy | | Accepted |
| Rantalainen, Aapo | | University of Oulu | Finland | jammo | mypaint, vala-terminal, centerim | Accepted |
| Jongepier, Maarten - Alexander | Student / Sysadmin | | Netherlands | | | |
| Mattila, Marko | Senior Specialist / Qt, MeeGo | Cybercom Finland | Finland | | QuickFlickr, QTablet (not active anymore) | |
| Waelti, Tom | MSc, Software Dev Manager | IT (Consulting / eGov / Healthcare) | Switzerland | mClock, python packaging wikis | easy maemo dev for Windows-based users | |
| Munk, Carsten | maemo.org distmaster | Imogen Software | Poland | The Mer Project | Maemo | Accepted |
| Paul, Johan | Software Engineer | Cybercom Finland | Finland | | Harmattan | |
| Savola, Sampo | | | Finland | eCoach | shake2control | Accepted |
| Teulings, Tim | Software Engineer | IT Services Germany (Deutsche Post DHL) | Germany | WifiInfo, DiskUsage, EightyOne, Scopa, WeightJinni | DateJinni, DiceJinni, FindMine, GiveMeFive, GPSJinni, Kandis, Knips, MathJinni, PackageView, PushIt, TimerJinni | Accepted |
| Glezos, Dimitris | Product director | Indifex | Greece | Transifex | Django Fedora | Accepted |
| Koskinen, Aki | | | | | | |
| Kojo, Tero | | | Finland | | | |
| Rocha, Joaquim | Innovation Hacker | Igalia | Portugal | SeriesFinale | OCRFeeder | |
| Gorter, Onne | Sr. Software Engineer | ActiveVideo Networks | NL | | | |
| Hedberg, Henrik | Assistant Professor, University of Oul | mauku.innologies.com | Finland | Mauku | Mauku, Microfeed, JamMo | Accepted |
| Gerasimova, Ekaterina | | | Germany | | | |
| Ståhlberg, Kurre | Applications Engineer | Immersion | Finland | | | |
| Smirnov, Alexey | Senior Software Engineer | Teleca Finland Oy | Finland | | | |
| Rohde Christiansen, Kenneth | Technical Leader / Software Developer | Nokia Technology Institute, INdT | Brazil | WebKit | Canola, Qt, intltool | |
| van Rappard, Martin | Software engineer | EMC / X-Hive | Netherlands | | | |
| Guim, Mark | Editor | thenokiablog.com | USA | | | Accepted |
| Schneider, Peter | Head of Marketing, Maemo Devices | Nokia | Finland | Maemo | | |
| Garcia, Alberto | Software developer | Igalia | Spain | Hildon | Vagalume | |
| Pickering, Simon | In-his-spare-time developer | | UK | maemo-barcode | DSP & Platform optimisation & Community | Accepted |
| Vasiliev, Vlad | Software Engineer | Gas company | Republic of Belarus | OMWeather | LiveWallpaper, MeeCast | Accepted |
| Jipping, Mike | Professor | Hope College | USA | OSS education / Zutun | Python Development, routing issues (eg, OLSR), Canola 2 plugins | Accepted |
| Arnold, Randall | Data Analyst | | US | Community Outreach | Maemo Greeters | Accepted |
| Klapper, Andre | | | Malta | | | |
| Tsourakis, Nikos | Computer Engineer/Researcher | University of Geneva | Switzerland | | Mobile HCI/Speech Recognition/Machine Translation | |
| Koch, Uwe | Project leader, software developer | | Germany | Porting games | Linux on embedded devices | |
| Visvanatha, Sanjeev | Community Member | | Canada | Brainstorm Moderator, Blogger | | Accepted |
| Paine, Steve | Analyst | UMPCPortal | Germany | Analysis / Research | UMPCPortal | |
| Cobb, Graham | Not relevant | | UK | GPE | OpenSync, Xsisusb, MUD | |
| Barbosa Junior, Juarez | | | | | | |
| Schrader, Boudewijn | | | | | | |
| Vartiainen, Mikko | | | Finland | openvpn-applet, open source games for maemo | | Accepted |
| Gil, Quim | open source advocate @ Maemo Devices | Nokia | Finland | maemo.org | Miniature | |
| Harwell, Adam | Associate SAP Analyst | Valero Energy Corporation | United States | Advanced Backlight | mbarcode | Accepted |
| Samoff, Tim | Professor | Moorpark College | USA | | UI Design & Usability | Accepted |
| Janulgue, Abdiel | Senior Software Engineer | Nokia | Finland | | Harmattan | |
| Hasselmann, Michael | | Openismus GmbH | | | | |
| Szekely, Ferenc | | | Finland | maemo.org | | |
| Cumming, Murray | Managing Director (and Developer) | Openismus GmbH | Germany | maemomm | Glom, Documentation | |
| King, David | Software developer | Openismus GmbH | Germany | maemomm | glom, gtkmm, vidrot | |
| Dudek, Marcin | Test Engineer | | Poland | | | |
| af Heurlin, Eero | Consultant Partner | Nemein Oy | Finland | mobilehotspot | maecalories, maemoplazer, midi-support | |
| Perl, Thomas | Student | | Austria | gPodder | gPodder, MaePad, headphoned, RaeMote, Tennix, feedhandler, Trophae, Panucci, MaePadWeb, That Rabbit Game, qw | Accepted |
| Janiszewski, Tomasz | Software Engineer/Test Engineer | Softica Ltd. | Poland | | | |
| HERVIER, Benoît | Software Engineer | | France | mPIM, PyGTKEditor, PyPackager | PyGTKEditor, mCalendar, mNotes, ... | Accepted |
| Szpak, Lukasz | Team Leader | | Poland | | | |
| Filipczuk, Tomasz | Test Engineer | | Poland | | | |
| Pawluś, Sebastian | Software Engineer | | Poland | | | |
| Dziwinski, Rafal | Software Engineer/Test Engineer | | Poland | Bullshit Bingo | | |
| Wasilewski, Milosz | Project Manager | Softica Ltd. | United Kingdom | Stopwatch | | |
| Võsandi, Lauri | Google Summer of Code student 2010 | Estonian IT College | Estonia | Transifex mobile | Estobuntu, Manpremo | Accepted |
| Del Sorbo, Aniello | Software Developer | Orbis UK Ltd | UK | Xournal port to Maemo | Cryptography, Network Security, Mobile devices, developing cool stuff | Accepted |
| Usachev, Max | GSoC Student | | Belarus | Mnemosyne for Maemo | | Accepted |
| Sliwa, Marcin | Team Leader | | Poland | | | |
| Sorvisto, Teemu | Managing Director | mFabrik | UK | | | |
| Mandala, David | Engineering Manager Ubuntu Mobile | Canonical USA | US | Ubuntu Netbook Remix, Ubuntu ARM | Mobile Devices | |
| Najafi Tonekaboni, Keywan | Student | | Germany | | Push N900: Solderin' Skaters | |
| Minier, Loïc | Mobile Team Tech Lead | Canonical | France | Ubuntu | Debian | |
| Olmsted, Andrew | Software Test Engineer | | Canada | Qt Maemo (currently working on finger scrolling) | Personal Menu, Personal Launcher, Large Statusbar Clock, Countdown Home, Personal Dataplan Monitor, Yellownotes Applet (porting to maemo4), OMWeather (contributer, transparency code), GPE Calendar (contributor, summary code), Birdlist (unreleased Qt/sqlite program) | Accepted |
| bruce, alan | Maemo Hacker | | Canada | community council member | Easy Debian | Accepted |
| Valério, Valério | Student | | Portugal | BlueMaemo | maemo.org, Maemo@GSoC | Accepted |
| Maneos, Lucas | Generalist | | UK | Bugsquad | | |
| van Oostveen, Ido Sebastiaan | Directeur | IDCA Technologies | The Netherlands | Custom Mapping application | Maemo on a Bike,Timelapsed and Autosync/Autobackup | |
| Braad, Gerard | Software/Hardware engineer | CodeWave | China | | Fedora | |
| Gedminas, Marius | programmer | Programmers of Vilnius | Lithuania | | open source packages | |
| Pretorius, Willie | Sr. Technical Architect | | Netherlands | Testing Squad | | |
| Barbieri, Gustavo | Software Architect | ProFUSION embedded systems | Brazil | Enlightenment Foundation Libraries | Canola | Accepted |
| Dapena Paz, José | Computer engineer | Igalia | Spain | Modest | | |
| Abel, Ryan | Student | | United States | Advanced Backlight | Mer, maemo.org | Accepted |
| Birkett, Gary | software developer | Collabora | England | liqbase | liqbase | Accepted |
| Flegg, Andrew | | | United Kingdom | tablet-encode | Contact sync, package building, community ownership, high-level language development | Accepted |
| Greaves, David | Technical Architect | Freelance (Nomovok/Nokia) | UK | Mer | Qt, Shopper, Wiki/docs | Accepted |
| Grandi, Andrea | Student | | Italy | PyMaemo and mSoma | Embedded device programming, python programming | Accepted |
| Suplido, Reggie | Talk Administrator / Blogger | talk.maemo.org / Maemo Talk | USA | Talk Administrator / Blogger | | Accepted |
| Bennett, Jamie | Ubuntu Mobile Developer | Canonical | United Kingdom | | | Accepted |
| Manner, Lauri | Consultant | Nemein | Finland | maemo.org | | |
| Kaminski, Uwe | Product Manager | STRATO AG | Germany | I'm one of the organiizers of the mobile freidae berlin which is an local Maemo/MeeGo network in Berlin. I am also part of the Bugsquad and Testingsquad for Maemo as often I have time to do that. | http://internettabletblog.de | |
| Bergius, Henri | Consultant Partner | Nemein | Finland | Midgard | GeoClue | |
| wilms, daniel | Engineer | Nokia | Germany | Developer Support | | |
| Breet, Niels | maemo.org Webmaster | maemo.org | The Netherlands | | maemo.org | |