Nokia World '09 and the Nokia N900
2009-09-04 18:51 UTC by
Tim Samoff
This is my account of the experience that Andrew Flegg and I had while at Nokia World 2009 in Stuttgart, Germany. Both of us were able to get an insight into what Nokia is currently up to as well as some of the future endeavors of the Maemo Devices team. Likewise, we both tweeted a lot during the conference. But, tweets...? Well, they're not always the best format for others to get a summary of everything was reported. That's what this article is all about. Lastly, if you'd like a much more in depth look at the Nokia N900, please view Alan Bruce's account here.
It was an unseasonably warm day as I emerged from the airport in Stuttgart, Germany. The clouds were high in the air, but the humidity and damp odor made it clear that rain was imminent. Just as clear was the fact that Nokia had taken over most of the surrounding territory for Nokia World 2009. A pre-registration booth was inside the airport itself. Outside, blue and white banners waved a welcome in almost every language imaginable. Scanning the banners, I found that they ended with Nokia logo banners and a giant LED screen displaying Nokia World information.

After taking a cab to my hotel to check-in and clean up (nothing makes a person feel grimier than a Transatlantic flight) I ventured back to the airport to meet up with Maemo Devices marketing guru, Peter Schneider. At a hotel just across the street from the airport, Peter and I hung out, drank some good German pilsner, and discussed (among other things) the recent launch of the Nokia N900 (at maemo.nokia.com) and some of the responses from the press and the general public, the N900 and beyond, as well as the general state of the Maemo community. I can't say much more than that some very exciting times are ahead, both for Nokia and our humble community.


After a couple of beers and some spicy nuts, Peter and I hooked up with Jussi Mäkinen and Teemu Sorvisto (both also from Nokia's Maemo Devices division) and grabbed a cab to pick up Mozilla Mobile VP, Jay Sullivan for dinner. The food was good -- a close approximation of American steak house fare -- but even better was the conversation and an informal demonstration of the latest version of Fennec running on the N900. Fennec is quickly maturing and it's neat to know that Mozilla is taking it so seriously. We ended the night relatively early so that everyone could rest up for the coming day.

The next morning, I walked from my hotel to where my fellow Maemo Community Council member, Andrew Flegg was lodging. It turned out that this was also where most of the conference delegates (who weren't Nokia employees) were staying -- good news for me, as the airport shuttles would save me about eighteen Euros in transportation fees. It was good to see Andrew again (the first time since last year's Maemo Summit in Berlin) and I'm sure that our excitement for what we were about to do was evident to onlookers. Surely, much of our enthusiasm was due to the rumored hard launch of the N900; I also think it is hard not to be proud of being Nokia's chosen representatives, responsible for relaying news back to our beloved open source -- and eager -- community.


As it turned out, the N900 wasn't to be the spotlighted product of Nokia World. There was the new N97 Mini, the Booklet 3G, the X6, and (oh, yeah) the fact the Nokia is a "services" company now (read the hundreds of tech blogs who reported on the announcement for more about all of those things). Still, it was impossible for the crowd (and a few Nokia executives) to ignore the N900. From the giant product shots in some of presentations to the hundred or so devices that were being demoed throughout the building, no one could get enough of the N900 and Maemo 5. Sure, there were some cool technologies happening elsewhere on the floor (augmented reality glasses with intelligent eye-tracking anyone?), but when compared with the legacy functionality and user-interfaces of the plethora of Symbian phones, Maemo 5 was easily the draw of the show.

Andrew and I also got to grill Peter Schneider with all of the questions that the community provided, plus a few of our own. What we can report will be updated on the corresponding wiki page at maemo.org.


But, what about the N900?

Upon first-touch, the N900 is easy to hold, much better balanced than its older siblings. Despite it's thickness, the device feels slimmer and even lighter than the N810, even though it is a few grams heavier.

The sliding keyboard is well constructed and pops in and out with a solid thunk. The three-row keyboard is a dream to type on when compared with the N810 (and even the N97) and the character assignments are very intuitive -- after typing on the N900 for a minute or so, I felt like a beginner when I was forced to go back to my N810. Placing the arrow keys on the right side was another great call for the evolution of the keyboard. Unfortunately, one flaw in the design of the N900's body is the placement of the I/O jack -- it will be difficult at best to use the hardware keyboard with headphones plugged in. But, rest assured. The N900 includes A2DP over Bluetooth, and it sounds great!

The screen is exquisite and I didn't even notice it being smaller than its predecessors. Video, images, and text were all crystal clear.

Surprisingly, TV out from the device didn't just show media playback, but the N900's full desktop in all its full glory. I can already imagine seeing OM Weather and my RSS feeds displaying on my TV, while music on my N900 is playing back through my home stereo system. TV out is in SD, but it looks even better than a Nintendo Wii on an LCD. Speaking of the Wii, I watched Andrew play a game called Bounce, an accelerometer-based, rolling marble game. Watching him use the N900 as a controller, while he visually interacted with the action on the LCD looked a lot like watching someone play the aforementioned gaming console.


Finger-use is easy, almost like touching a capacitive screen with better tactile feedback. Once in a while, I had to pull out the stylus to click something, but it was rare. When browsing the web, I was pretty happy just using my fingers. At times when I had to click a link or button, it was trivial to double-tap and zoom into the area that needed a more precise touch.

The browser -- still the Mozilla-based MicroB, now called "Maemo Browser" -- has vastly improved since the last Diablo release. It loads pages quickly and is very responsive. There are even some new navigational functions that I found to be very intuitive and natural. I did notice that the browser's text selection tool didn't appear to be included in any of the other applications, which is a shame, because it is very handy.

Shooting photos and video is one of the simplest operations on the N900 and will appeal to first-time users since it works just like any other digital camera. There are even some preset settings like macro, portrait, and landscape.
The photos were clear and vibrant and the accompanying Image application is really nice. Being able to crop, tag, and share to a number of online services is really handy (although, I would love to have seen a few more services in the list).

Of course, the innovative application switcher and panoramic desktop were the biggest "wow" moments for everyone, myself included. It's nice to see functionality like this just work on a device like this -- and it really works.

But, we can't forget the phone functionality and one of the coolest features, the integrated Contacts application. Phone calls, SMS, instant messaging, and calendar are all tied together via the N900's Contacts. When I was clicking through the various applications, this idea became a revelation, and I wondered why other operating systems haven't quite gotten this yet.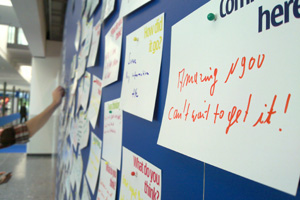 Overall, I was quite pleased with the whole experience -- and, yes, I want an N900. It was also clear that everyone else liked what they saw too. One of the activities for the conference delegates was to write a comment or two on a note card to be hung on one of the walls in the venue. I'll bet that thirty percent of all the cards hung said something positive about the N900. It appeared that everyone else wanted one too.

Now, just a day after the conference, I'm left dreaming of when I'll have my own, shiny new Nokia N900 -- a device that I think will soon take the mobile computing world by storm.

I'm also thinking about some of the amazing people that I know -- people whom I consider friends -- at Maemo Devices. Not only are they good people, but they are to be commended for their foresight in tapping into free and open source software and for trusting a worldwide, volunteer community of users and developers to help steer towards the future of Maemo.

If you weren't able to attend Nokia World this year, I think that you too will be surprised by how cool the Nokia N900 is. Go have another look at maemo.nokia.com -- it really is that slick.
Comments:

Karma: 6
Great article, thanks for taking the time to put this up.
Regarding the lack of on-line sharing services, it sounds as if the N900 uses PixelPipe out of the box. Hopefully we can just add additional providers (pipes) as needed through our PixelPipe accounts.
Looking forward to part 2 :)
2009-09-08 07:37 UTC
Comments:
You must be logged in to make comments.