Last Official Maemo Community Council Post from Me (for now)...
2009-09-29 02:51 UTC by
Tim Samoff
I must say that the last year has been quite a blast. Not only has being a Maemo Community Council member been fun, but it's been a great learning experience too: it has really exposed my to the inner workings of community management (the good, the bad, and the ugly), even after having been a part of so many open source projects in the past. I am proud of my year-long tennure, though -- as well as the jobs that were performed by the other Council members -- and I feel like we're leaving some rather large shoes to fill. (Still, I am definitely resting assured in the fact that the new lineup will all do an amazing job of shoe-filling.)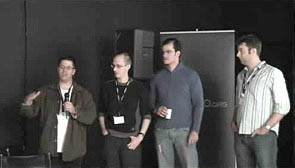 The past two Councils have accomplished a lot. It might not have been everything that we set out to do, but it's nothing to discount by any means. I have such fond memories of meeting with the first Council for the first time at Maemo Summit 2008. We had to scramble together for an impromptu gathering in order to put our presentation together. I had prepared a template beforehand (the others had sent me their "pages" via email), so we were faced with a bunch of random pieces to an unknown puzzle. Not only did we need to introduce ourselves to the Maemo world, but outline our plans and objectives -- something that, a year later, is still not entirely complete.
Now, on the eve of Maemo Summit 2009, we're about to usher in a new Council. It brings a smile to my face knowing that they will have to acheive similar feats once they all arrive in Amsterdam next month.
We're also on the brink of a new version of Maemo, as well as an incredible new Maemo Device. The new Council doesn't know what they're getting into.
But, my past two Councils had our share of uphill battles as well. Summit #1 plans had to be finalized. The N810 was fairly new, and Maemo 4 (Diablo) had been released only months earlier. Mer was in its infancy (I don't think it even have an official name at that point). We planned and implemented the maemo.org redesign project. We facilitated the integration of Internet Tablet Talk into the maemo.org website. Not to mention all of the election referenda, Summit #2 plans, Maemo 5... The list is long and I hope our generous Nokia sponsors are proud of us.
So, with this last post, I'd like to thank Ryan, Andrew, Kees, and Alan. You have been great Council mates and have all made my job easier during this term. I hope I have done the same for you. (By the way, we'll need to make a point to get a photo of us all together at the upcoming Summit for posterity's sake.)
Good luck, third Maemo Council. I'm pulling for you. Please don't hesitate to ask for guidance or wisdom -- I think I've gained a little over the past year. Keep the user in mind, don't get caught up in politics, and try to be as open as possible in eveything you do.
Fide et fiducia!
Comments:
Comments:
You must be logged in to make comments.