Tablet Encode v2.30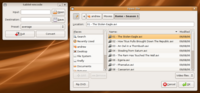 Downloads: 15093
Votes: 42
Free & Open Source license

This powerful application guarantees to convert your videos to formats which will play on your Internet Tablet. By using a system of presets, you can choose the trade-off between size and quality. Runs on Linux, Mac OS X, Unix and Windows PCs.
An easy-to-use command line interface is provided, and (on some platforms) a simple GUI is available.
Requires Perl and mencoder: full details are in the bundle.
Updated 2009-11-07 14:46 UTC

Links
Changes in version 2.30
Major new release including: subtitle support, bug fixes, N900 preset and a `--hq' option for very high quality video.