OSSO Help Plugin for Serna XML editor v0.1b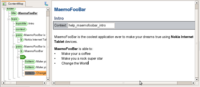 Downloads: 1818
Votes: 3
Free & Open Source license

Syntext Serna XML editor customization to deliver new experience in creating Maemo help files and documentation. Adds support of OSSO (Maemo) Help files format to Serna editor.
Allows to create Maemo documentation is visual (WYSIWYG) mode. Makes it possible to write Maemo documentation by people with no XML experience.
Platform independent. Works for Mac OS X, Windows, Linux.
GNU Lesser GPL v3
Instructions to install and use, screenshots and tutorial can be found on the homepage.
Updated 2009-04-22 23:00 UTC
Links
Changes in version 0.1b
Initial public release

OSSO Help format schema files (DTD, XML Schema)

Documentation