xword v1.0.9-2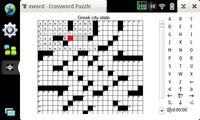 Downloads: 7210
Votes: 4
Free & Open Source license

xword is a crossword puzzle program which can read Across Lite ".puz" files.
Updated 2009-01-05 19:45 UTC
Links
Changes in version 1.0.9-2
Save/restore the "fullscreen" state.
Added File->Close and File->Delete, so user can delete the .puz file from disk, typically after the puzzle has been solved.
Load custom GTK theme to make the onscreen keyboard background white (fix for LCARS theme problem) and to shrink the button font so buttons can fit in rotated fullscreen view.