Xournal v0.4.2.1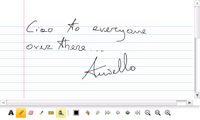 Downloads: 33589
Votes: 58
Free & Open Source license

This is a port of Xournal 0.4.2.1 to the Maemo platform.
Features pressure sensitivity support and shape recognition.
WARNING: Installing Xournal from this install file will add the"maemo Extras (chinook)" repository.
This install file works on Diablo too. If you're running Diablo, after Xournal has been installed, disable the Chinook catalogue.
Moreover, there is NO update for Diablo. If you see one.. DO NOT INSTALL IT (it's an alpha release).
Updated 2008-04-18 10:22 UTC


Links
Changes in version 0.4.2.1
The Maemo port is at its 1st release and features full hildonization of the user interface, backup/restore support, help support, file manager support (MIME type), improved color management.