Xarchiver v0.4.6-7maemo2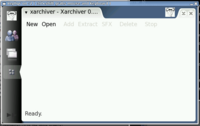 Downloads: 22980
Votes: 5
Free & Open Source license

A port of Xarchiver, which is a frontend for several compression utilities, like tar, rar, or zip. It supports mime-open and is tested & developed on the n800 with os2008/chinook.
Updated 2008-08-25 15:45 UTC
Links
Changes in version 0.4.6-7maemo2
added support to open files received via blootooth.

fixed tar problems. xarchiver now utilizes gnutar, as the standard os2008 tar seems to be stripped down (no bzip2 & other stuff).

the deb package depends now on the following packages: bzip2, gnutar, unrar, unzip (those are in the repository and installed automatically).