Wizard Mounter v1.4.1-maemo4.1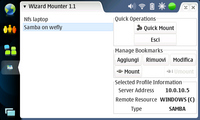 Downloads: 10852
Votes: 5
Free & Open Source license

Wizard Mounter allow you to mount remote resources like NFS or SAMBA. It let you manage different bookmarks so you can save different profile for different network. Read the 'README_FIRST' on the project page. Feedback is welcome.
Updated 2009-07-10 00:45 UTC
Links
Changes in version 1.4.1-maemo4.1
This version is for diablo.