WifiInfo v0.8.20090520-1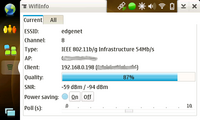 Downloads: 68009
Votes: 22
Free & Open Source license

Shows detailed information about your current WLAN connection and all visible access points.
WifiInfo is part of the extras repository.
Updated 2009-06-19 16:45 UTC

Links
Changes in version 0.8.20090520-1
Added checkbox to manually activate/deactivate scanning of acces points, since this possibly may make system services crash and requires a restart.
No also works for Wimax devices.