Battle for Wesnoth v1.2.8-2maemo6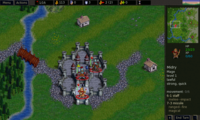 Downloads: 14557
Votes: 10
Free & Open Source license

A port of the Battle for Wesnoth (http://www.wesnoth.org) to OS2008.
Battle for control of villages, using a variety of units which have advantages and disadvantages in different types of terrains and against different types of attacks. Units gain experience and advance levels, and are carried over from one scenario to the next in a campaign.
Updated 2009-01-17 20:45 UTC
Links
Changes in version 1.2.8-2maemo6
Plays all sounds, and plays music at start-up and during the game if the optional wesnoth-music package is installed.