WeightJinni v1.8.20090520-1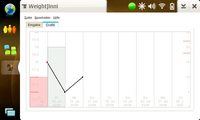 Downloads: 8924
Votes: 6
Free & Open Source license

WeightJinni is a small program that allows you to track all the things you eat and drink together with your current weight.
Besides a table view it also show in a small graph your weight and kcal (or other unit) per day.
Future enhancements like statistics, meal suggestions, improved graphics etc. are planed.
Usage: Use popup menues for the tables. Stroke up or down on the graph to switch resolution.
Updated 2009-06-19 16:45 UTC
Links
Changes in version 1.8.20090520-1
Added shortcut buttons as an alternative for table popup menues to increase usability.
Food search is now case insensitive.