Additional keyboard layouts v1.9-1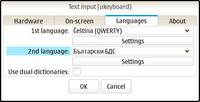 Downloads: 7416
Votes: 20
Free & Open Source license

Additional keyboard layouts.
On-screen keyboard: Arabic, Belarusian, Bulgarian, Croatian, Czech, Hebrew, Hungarian, English (Dvorak), Esperanto, Slovak, Thai.
Sliding keyboard: Bulgarian, Czech, Slovak, Polish.
Included is a tool to easily test your own layouts in the tablet (see homepage).
Updated 2009-10-22 02:45 UTC
Links
Changes in version 1.9-1
Added Belarusian on-screen layout.
Modified US Dvorak layout.