TiMidity++ v2.13.2-20maemo3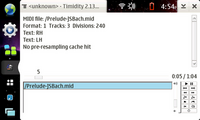 Downloads: 3020
Votes: 8
Free & Open Source license

TiMidity++ is a software synthesizer. It can play MIDI files by converting them into PCM waveform data; give it a MIDI data along with digital instrument data files, then it synthesizes them in real-time, and plays. It can not only play sounds, but also can save the generated waveforms into hard disks as various audio file formats.
TiMidity++ is a free software, distributed under the terms of GNU general public license.
Updated 2008-12-23 15:31 UTC

Links
Changes in version 2.13.2-20maemo3
Recompiled and sent to diablo builder too. VFP enabled and hildonized GTK interface enabled.
Port to Maemo (thanks to Klaus Rotter and his Bomberman garage project)