SplitTheTab v1.2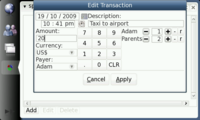 Downloads: 487
Votes: 0
Free & Open Source license

SplitTheTab allows to track expenses for a group of people in multiple currencies.
By distributing each expense over multiple accounts using appropriate splits, it greatly facilitates keeping a running tab when e.g. traveling with a group of friends.
Updated 2010-05-30 20:20 UTC
Links
Changes in version 1.2
Added a pop-up calculator including a tip calculator, OpenOffice export, more report features, and several usability enhancements.