SpeedcamAlerter v1.2.0-4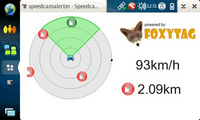 Downloads: 1545
Votes: 1
Free & Open Source license

Using FoxyTag speedcams database, SpeedcamAlerter alerts you when speedcam approaching.
FoxyTag service is only an online service so you must have a mobile phone with data access.
Updated 2009-07-10 12:45 UTC
Links
Changes in version 1.2.0-4
Small package fix. Stable release. Still in beta to know how many users use SpeedcamAlerter and fix the lower price as possible (mandatory to use FoxyTag). Please visit SpeedcamAlerter homepage for more infos.