Speccy - Sinclair ZX Spectrum Emulator v1.6.6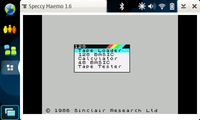 Downloads: 4120
Votes: 9
Non-free license

Speccy will emulate different models of Sinclair ZX Spectrum and its clones, such as Timex Sinclair, Pentagon, Scorpion, Didaktik, etc. This version of Speccy has been specifically adapted for Nokia tablets. It supports joypad simulation with a stylus (or finger) input and will automatically open *.z80, *.sna, *.tap, *.tzx, *.trd, *.scl, *.fdi, and *.dsk files from the file manager.
Updated 2009-01-24 18:55 UTC
Links
Changes in version 1.6.6
New icon by Andrew Zhilin
Added virtual keyboard.
Fixed on-screen joypad.
Frame rate now counted by joypad checks.
CHR key now acts as fire button.