Slysics v0.7.1-2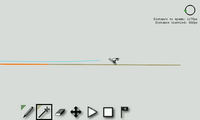 Downloads: 2182
Votes: 6
Free & Open Source license

Slysics is a physics simulation game which involves the user drawing lines in which a figure then sleds or slides down. Keep in mind that simulations may not be completely similar and therefore require a robust track.
***Development is stagnant awaiting release of OpenGL drivers for maemo4 and device testing of libsdl1.3 for maemo5.
Updated 2009-09-29 02:45 UTC
Links
Changes in version 0.7.1-2
Added saving and onscreen keyboard. Fixed various bugs: *Max world crash *Spawn rotation handle bug *...