Slide Rule - Advanced Graphing Calculator v1.0.1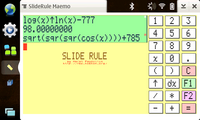 Downloads: 5952
Votes: 17
Non-free license

At the surface, the Slide Rule is just another scientific calculator for your tablet. In addition to the usual arithmetic duties, Slide Rule can do much more though:
* Simplify ratios without resorting to floating point.
* Simplify algebraic expressions.
* Plot algebraic expressions.
* Compute derivatives analytically.

Updated 2008-11-22 20:31 UTC


Links
Changes in version 1.0.1
Keypad buttons now arranged in "calculator" order rather than the "phone" order.
Top row of N810 keys now acts as digits, even when F-key is not pressed.