Shopper v0.5.7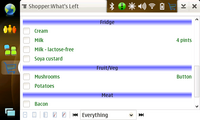 Downloads: 4745
Votes: 15
Free & Open Source license

Provides a shopping list with aisles/categories and a UI that's useful whilst shopping. The list can be flicked and scrolled using your fingers and the items are crossed of the list with a left-right scribbling gesture.
As you buy items and scribble them off the list they vanish so you only see what's left.
Zooming is now supported so the items are easier to select for those of us with pudgy (sorry, "manly") fingers...
Updated 2009-03-15 14:45 UTC


Links
Changes in version 0.5.7
Added support for portrait rotation - see http://wiki.maemo.org/Rotation Fixed: * item sort * icon size (more finger friendly) * scrolling 'sticks to paper' for pelago * finger scrolling in the category mannager * added strikeout and notes boxes have lines * Websitehelp text : http://shopper.garage.maemo.org/ * Lots of code tidying by Erik Hovland and a bug spotted by Andrew Olmsted