Seqretary - a PIM suite for handheld devices v0.92.13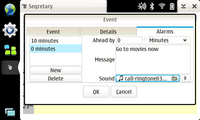 Downloads: 3805
Votes: 41
Free & Open Source license

Seqretary is a PIM suite for handheld devices with the following design goals:
Fast startup time;
Low battery usage;
Responsive even with large numbers of entries in the database;
High reliability.
Updated 2010-11-09 14:03 UTC




Links
Changes in version 0.92.13
Fixes a bug in recurring events that occur on the last, 2nd last, 3rd last or 4th last instance of a day in the month (such as an event on the last Friday of every month. This version is no longer GPL, but is still freeware on OS2008.