Rapier v1.0.4-6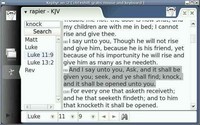 Downloads: 12086
Votes: 32
Free & Open Source license

Rapier is a python bible reader application for maemo. It uses the Sword library to access bible translations, as well as to search text occurences in the available books.
Updated 2009-10-29 15:45 UTC
Links
Changes in version 1.0.4-6
Removing modules did not worked properly.
Strong Number support.
Some error checking when copying directory in preferences.
Adding a "append new line at end of verse" option.
more in the changelogs...