RadioTimeToGo v0.0.7-2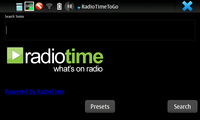 Downloads: 911
Votes: 2
Free & Open Source license

RadioTime for Maemo
Find streaming talk radio and streaming music radio. Search for podcasts, genre, location, artist or song. The best guide to every type of radio. Save presets and associate your device with your RadioTime account.
Updated 2011-01-31 09:09 UTC
Links
Changes in version 0.0.7-2
Enhance description. Use full URL when playing stations. Update build in about. Correct RadioTimeToGo.py case.