PyGTKEditor v2.4.4-1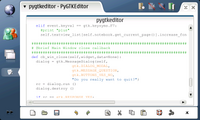 Downloads: 6112
Votes: 24
Free & Open Source license

PyGTKEditor is a text editor with a small screen footprint, fast syntax highlight based on GtkSourceView, fullscreen capable, regulars expressions search and many more other things specially designed for onboard developpers. PyGTKEditor was mainly an editor for python developper, but it s now open to all other language like c/c++, ruby, java, php and many more.
Require GtkSourceView2 and his Python Binding. Which is now available in extras repository
Updated 2009-09-28 21:45 UTC
Links
Changes in version 2.4.4-1
Add duplicate line shortcut. Add replace tabs by space feature.