PortaBase v2.1-1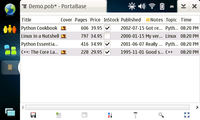 Downloads: 1066
Votes: 2
Free & Open Source license

A cross-platform application for managing simple databases. Supports a variety of column types, even including calculations and images. Files can be encrypted, and data can be imported from CSV, MobileDB, and XML files. Works well for lists of possessions, shopping lists, todo lists, financial tracking, password management, and more.
Updated 2012-09-09 18:20 UTC

Links
Changes in version 2.1-1
First stable release for Diablo.