Personal Launcher v0.7-4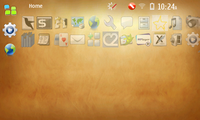 Downloads: 38512
Votes: 14
Free & Open Source license

Personal Launcher allows you to launch applications from the desktop easily and stylishly. Features configurable icons size and transparency, auto layout, and simple way to add applications.
Updated 2008-11-22 00:45 UTC


Links
Changes in version 0.7-4
New settings design. Fixed aspect ratio of non-square icons. Using manual layout disables applet resize. Fixed problem with animation and backgrounds. Change animation to transparency pulse. Add support for rootsh when running as root.