PackageView v0.3.20090520-1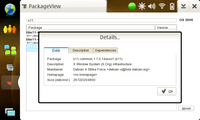 Downloads: 8005
Votes: 3
Free & Open Source license

Using PackageView you get a list of all installed packages. Packages can be filtered by name. Double click opens a detail dialog, showing further details like a number of package attributes, package contents and a list of dependencies.
PackageView is part of the extras repository.
Updated 2009-06-19 16:45 UTC
Links
Changes in version 0.3.20090520-1
Added list of package contents (for installed packages).
Improved presentation of common package attributes.