OSM2Go v0.8.3-maemo1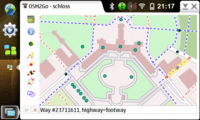 Downloads: 20921
Votes: 31
Free & Open Source license

OSM2Go is a editor for openstreetmap. OpenStreetMap is for maps what Wikipedia is for encyclopedia.
It makes heavy use of the plattform as it uses the internet to transfer data from and to the map servers. It uses GPS and the hirez touchscreen.
The current version allows for all major aspect of mapping incl. creation, deletion and modification of ways and nodes.
Updated 2010-01-31 22:20 UTC






Links
Changes in version 0.8.3-maemo1
0.7:
Built-in slippy map for area selection
Fremantle GUI
Preinstalled demo project
Map styling rewritten
GPS tracking rewritten
0.6:
Explicit relation handling
Variable styling
Improved WMS handling
Many bug fixes
0.5:
Ability to create and delete ways and polygons
Join and split ways
Implicit relation handling