OpenTTD v0.7.4-1maemo3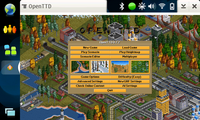 Downloads: 5399
Votes: 13
Free & Open Source license

OpenTTD is a open source reimplementation of the Transport Tycoon Deluxe game engine.
As president of a start-up transportation company in 1950, you have a choice of building rail, road, air and maritime transportation routes to build up your transportation empire.
This is a Maemo port of OpenTTD, with maemo-ised keybindings and kinetic scrolling.
Updated 2010-04-28 20:20 UTC

Links
Changes in version 0.7.4-1maemo3
Much newer game version.
Does not need copyrighted files.
Kinetic scrolling available.