mSideShow v0.0.6-1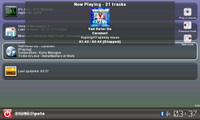 Downloads: 1146
Votes: 1
Free & Open Source license

mSideShow is a Python application for Nokia Internet Tablets that allows them to act as a Windows SideShow device. The device connects wirelessly using Bluetooth to your Windows Vista or Windows 7 PC.
Windows SideShow allows "gadgets" to publish content (new emails, RSS feeds, twitter etc) on a remote display.
Updated 2009-10-19 21:45 UTC
Links
Changes in version 0.0.6-1
Bluetooth communications now run in a seperate thread. Removed unnecessary screen redraws to improve performance. Event polls now break on a match to improve performance.