Car Mileage Calculator v1.5.1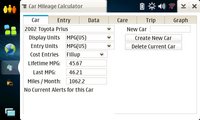 Downloads: 3731
Votes: 5
Free & Open Source license

This is a car mileage calculator. This will keep track of mileage, activity, alerts, and trips for your cars. It will plot historical information on a graph. It will also import data from other programs in CSV format.
Updated 2010-02-11 04:20 UTC
Links
Changes in version 1.5.1
The 1.5.1 version cleaned up the graph tab and enabled full screen mode for the graph tab.