mClock v0.5.7-3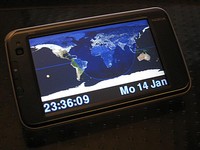 Downloads: 5378
Votes: 6
Free & Open Source license

mClock is a fullscreen clock with a day/night world map. For usage help, check the details tab in the program Manager when installing.
(Needs Python from pymaemo.garage.maemo.org)
Updated 2009-03-07 20:45 UTC
Links
Changes in version 0.5.7-3
-Finger-optimized interface (touch left/right border to switch between seasonal views). -Modified installer to "touch /usr/lib/python2.5/site-packages/gnome/init.py". This makes sure that mClock works on OS2008. -Cleaned up image backgrounds to eliminate white vertical line at right border. -Removed not-really-working always-on option: Install moreDimmingOptions instead.