MathJinni v0.9.20090520-1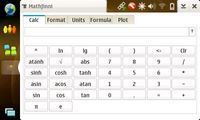 Downloads: 10653
Votes: 3
Free & Open Source license

A simple function calculator and plotter.
I'm looking for people sending more units and formulas!
Updated 2009-06-19 16:45 UTC




Links
Changes in version 0.9.20090520-1
Overall interface cleanup to prepare for modified space requirement under fremantle.
Reduced number of post colon digits to 9.
Added support for degree and radiant units for trigometrical operations.
Some smaller bug fixes.