Maemo WordPy v1.0~beta5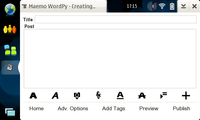 Downloads: 14866
Votes: 16
Free & Open Source license

Maemo WordPy is a blogging client for Internet Tablets.
Maemo WordPy actually supports Wordpress, Blogger and Livejournal. You can write posts in offline mode and edit posts already published. It interacts with photo services like Flickr and Picasa.
Updated 2009-04-29 13:45 UTC



Links
Changes in version 1.0~beta5
New revamped UI.
Edit posts already published.
Livejournal support.
Manage status of the posts.
Picasa support (upload, and insert into a post).
Schedule posts.
Support for post password and slug (Wordpress).
Autosave posts.
Support for launch with command line args.
Upload multiple images to photo services.
Remember paths to open posts, open images, etc.