Maemo Mapper v2.6.2-os2008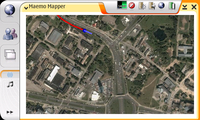 Downloads: 169541
Votes: 129
Free & Open Source license

Maemo Mapper is geographical mapping visualization software specifically designed for the Maemo platform and the Nokia 770/N800/N810 form factor. It uses raster maps downloaded from the internet from various online repositories (such as OpenStreetMap). It supports tracking, routing, POI, and other features found in personal navigation devices.
Maemo Mapper is free and open source software. If you appreciate Maemo Mapper, consider donating at http://www.gnuite.com/nokia770/maemo-mapper
Updated 2009-03-15 05:45 UTC
Links
Changes in version 2.6.2-os2008
This is a minor bugfix release, which also adds formal support for a couple new languages. Also added the ability to enable/disable recording of your track.