Load Applet v0.8.3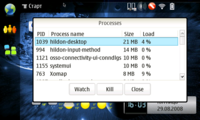 Downloads: 76709
Votes: 50
Free & Open Source license

Load applet shows CPU load, memory usage, SWAP activation and allows you to take screenshots in a convenient way
Updated 2009-02-11 09:45 UTC

Links
Changes in version 0.8.3
New feature: shutter sound after delayed screenshot to indicate when it's actually done.
Changes in previous version 0.8.2-3:
Fix: width/height is now calculated every time before making a screenshot. Previously incorrect image was created if the screen was rotated.

Improvement: system time now also counts when total CPU usage is calculated.