Labyrinth v0.5.0-maemo.r7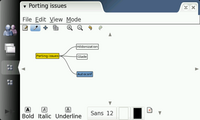 Downloads: 21291
Votes: 19
Free & Open Source license

Labyrinth is a lightweight mind-mapping tool, written in Python using Gtk and Cairo to do the drawing. It is intended to be as light and intuitive as possible, but still provide a wide range of powerful features.
Updated 2009-02-22 01:45 UTC
Links
Changes in version 0.5.0-maemo.r7
N800 support - added popup text box for editing thoughts through virtual keyboard
Note: to use virtual keyboard with N800, you need to have an existing text thought before clicking 'Edit'.
To create a new, just click on any free place, then press Enter(big D-pad btn), then click on some other place to confirm the thought with empty text.
To be fixed next weekend.