IPython - enhanced Python interactive shell v0.10.2-1maemo1-m4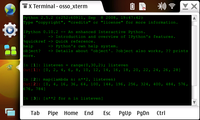 Downloads: 421
Votes: 1
Free & Open Source license

IPython can be used as a replacement for the standard Python shell, or it can be used as a complete working environment for scientific computing when paired with the standard Python scientific and numerical tools. It supports dynamic object introspections, numbered input/output prompts, a macro system, session logging, session restoring, complete system shell access, verbose and colored traceback reports, auto-parentheses, auto-quoting, and is embeddable in other Python programs.
Updated 2012-03-11 04:20 UTC
Links
Changes in version 0.10.2-1maemo1-m4
IPython 0.10.2 Maemo1 (21/02/2012) :
IPython 0.10.2 (09/04/2011) for Maemo 4 Diablo;

IPython 0.10.2 is optified and takes 6.3 MB after install.