Image Magick v6.3.7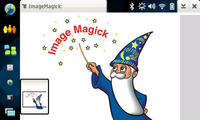 Downloads: 2371
Votes: 8
Free & Open Source license

Imagemagick is a set of programs to manipulate various image formats (JPEG, TIFF, PhotoCD, PBM, XPM, etc...). All manipulations can be achieved through shell commands.
Possible effects: colormap manipulation, channel operations, thumbnail creation, image annotation, limited drawing, image distortion, etc...
Updated 2008-01-08 14:10 UTC
Links
Changes in version 6.3.7
WARNING: I had to shutdown the repository. I'll try my best to re-compile this tools for Diablo/Chinook in the near future...
Stay tuned.
Notes: First port, it needs some hildonization (the 'display' application).
Note: there is no menu entry yet, only CLI commands