HomeIP v0.9.1-2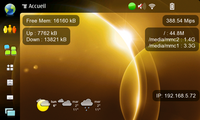 Downloads: 13185
Votes: 14
Free & Open Source license

HomeIP is a small widget which display your current IP on your desktop.
Update : The python binding package is available in the extras-devel repository. I can't create a repository as i don't have tool to do it. And i can't upload to extras due to the extrem difficulty to do it from a tablet.
Updated 2008-11-10 11:45 UTC
Links
Changes in version 0.9.1-2
Corrected a timer bug.