GPSJinni v0.4.20090520-2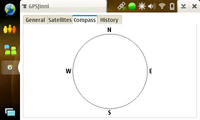 Downloads: 6103
Votes: 4
Free & Open Source license

A small tool to read fundamental data from the GPS device. Shows altitude, speed and similar basic calues. But has also a compass mode showing current direction and history mode showing changes in altitude and speed over time.
Updated 2009-06-19 16:45 UTC


Links
Changes in version 0.4.20090520-2
Fixed various deadlock and hangup problems. Application should now run fine
Currently application does not correctly stop gps daemon. This has to be done manually to safe battery life.