gPodder podcast client v2.20.2-1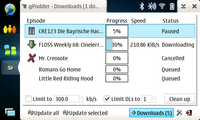 Downloads: 41195
Votes: 53
Free & Open Source license

Download audio and video podcasts directly on your Internet Tablet using a finger-friendly, simple to use interface. It integrates with Nokia's Media Player, but can also use MPlayer and Panucci as the Video or Audio Player. Also supports synchronizing of your podcast list to gPodder on your Linux Desktop.
Updated 2012-09-24 15:21 UTC


Links
Changes in version 2.20.2-1
Please see http://gpodder.org/news for up-to-date information.