Personal password manager v1.9.3-2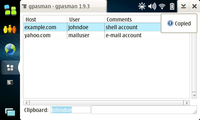 Downloads: 2717
Votes: 10
Free & Open Source license

Tiny and handy personal password manager. Usernames and passwords are copied into the clipboard on mouseclick for your convenience. Gpasman stores its data in a file encrypted using the rc2 algorithm described in RFC2268.
Updated 2008-03-03 16:00 UTC

Links
Changes in version 1.9.3-2
Disabled auto-caps feature when entering data into password fields.