give v0.8.0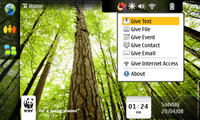 Downloads: 3030
Votes: 4
Free & Open Source license

Statusbar plugin for easy drag & drop data sending via Bluetooth.
Droppable data types: text, file(s), calendar event, contact.
Compatible with: osso-notes, osso-filemanager, dates compiled with dnd support, osso- addressbook.
TODO: modest compatibility for e-mails, pand to share internet (IP over BT)
Updated 2008-03-05 15:13 UTC
Links
Changes in version 0.8.0
osso-addressbok compatibility, contacts can be d&d-ed.