gFTP v2.0.18-17maemo3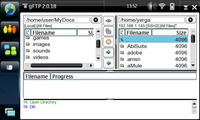 Downloads: 11982
Votes: 8
Free & Open Source license

gFTP is a file transfer client.
Supports the FTP, FTPS (control connection only), HTTP, HTTPS, SSH and FSP protocols FTP and HTTP proxy server support Supports FXP file transfers (transferring files between 2 remote servers via FTP).
Updated 2009-06-20 12:45 UTC

Links
Changes in version 2.0.18-17maemo3
Port to Maemo.
Interface hildonized.