Fuelpad v0.82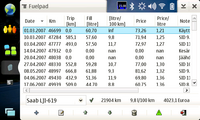 Downloads: 2693
Votes: 9
Free & Open Source license

Fuelpad is a tool to record your car fuel and other expenses. It calculates the fuel consumption for each entry, the overall distance, average fuel consumption and total cost. It can track the expenses of several cars. It also has a reminder system for regular maintenance recording.
Updated 2009-04-10 09:00 UTC

Links
Changes in version 0.82
This update adds the calculation of CO2 emissions, redesigned record filtering and a new yearly fuel consumption distribution plot. The sizes of some dialogs have been changed to better suite the IT screen size.