fMSX - MSX Home Computer Emulator v3.5.5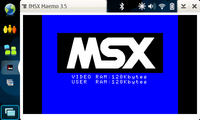 Downloads: 3966
Votes: 11
Free & Open Source license

fMSX emulates MSX, MSX2, and MSX2+ home computers that have been popular in Japan, Netherlands, Russia, and Brazil. This version of fMSX has been specifically adapted for Nokia tablets. It supports joypad simulation with a stylus (or finger) input and will automatically open *.rom and *.dsk files from the file manager.
Updated 2009-01-24 18:44 UTC
Links
Changes in version 3.5.5
Added virtual keyboard.
CHR key now acts as GRAPH.
Fixed frame counter to show total fps.
Fixed interpolated display aspect.