Feed Handler for the Maemo Browser v2.0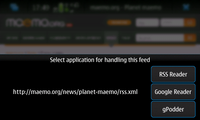 Downloads: 0
Votes: 1
Free & Open Source license

The Feed Handler allows you to choose the application with which to open a RSS feed in the web browser (Using the "Subscribe to feed" feature). This allows you to add feeds to local applications (e.g. the built-in RSS reader), to web services (e.g. Google Reader) and to special-purpose applications (e.g. gPodder for podcast feeds).
Updated 2009-10-03 14:52 UTC

Links
Changes in version 2.0
Initial release of the Vala rewrite.