Expense Assistant v1.1.0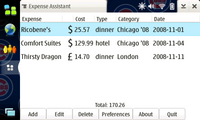 Downloads: 1
Votes: 5
Non-free license

Free software to track your travel expenses.
Download from Homepage.
Lists all your expenses. Each column is sortable. Use the Add/Edit/Delete buttons to update the list. Tracks expenses by category, type, currency, cost and date. You can customize the categories, currencies and types.
Click the Preferences button to filter which category to view in the main window.
Your data will be backed up by the Backup Utility when you select 'Document Files'.
Updated 2008-11-22 17:15 UTC
Links
Changes in version 1.1.0
Added ability to export data into a CSV file.